Happy Throwback Thursday! This post is PACKED full of awesome Halloween projects I created once upon a time! I'll recap & link to tons of different projects like retired mini albums, a card, a photo crate, a photo box with matching mini album, wall art using washi tape and retired house-shaped albums! Lots of great ideas and inspiration. Enjoy!
2019 -
Halloween Carnival Album - Last year, I created this mini scrapbook using Doodlebug's Candy Carnival Collection. You can purchase the instructions for this in my shop and ... this Doodlebug collection is still available! So you can buy the products and my simple instructions and make this cute album yourself!

To see more pictures of this Halloween Carnival Album and read my original blog post, click HERE. To purchase the instructions for this album, click HERE.

Halloween Pop-Up Card - Another fun project I made was this great pop-up card using one of Lori Whitlock's cutting files. It makes such an impressive handmade card for someone that they may not believe you made it, lol!
To see photos of the inside pop-up and to get the cutting file link for this Halloween Card, check out my original blog post HERE.
2018 -
Halloween Photo Crate - In 2018, I made this cute photo crate using Doodlebug's Pumpkin Party Collection. And yes, a lot of this collection is still available too! Yipeee!! I even checked on those adorable jelly clips - they're so cute I couldn't help myself. And they're still available! Oh, how I love Doodlebug!
This crate is filled with little file folders, photo cards and envelopes that you can tuck your photos into after Halloween. This makes really cute decor each year. To see all the pictures of this photo crate and get product links, go to my original post HERE.
Simple Vintage Halloween Album - Next up, I have this cute 2018 mini. It has a very classic Halloween feel and was created with the Simple Stories, Simple Vintage Halloween Collection. I used a 4x6 binder and designed it with all the traditional colors and images of Halloween. Love this!

To see more photos of this Simple Vintage Halloween Album and to read my original blog post, click HERE.
2017 -
Halloween Booville Photo Box - This adorable box comes with a matching mini album tucked inside and was created using Doodlebug's Booville Collection. This photo box would be so cute sitting out each year or, it could make an awesome gift for a grandparent filled with pictures of the littles!

To see all the pictures of this Halloween Booville Photo Box and matching mini album and to read my original post, click

HERE

.
Wall Art Picture Frame with Washi Tape - In 2017, I created a wall art project using washi tape, a picture frame, mat and scrapbook paper. I used a 4x4 card as the center image but you could also use a great family photo or a picture of your kiddos in their costumes!

To see more pictures of this project (including a Christmas and Pet version) and a list of the supplies used, click HERE to visit my original post.
2016 -
Halloween Boos N Brews House Shaped Album - The next 2 projects are retired mini albums that are in the shape of haunted houses. I used Doodlebug collections on both so you know they're so cute! This 2016 version was created with Boos & Brews and has kind of a "mad" scientist feel. The instructions for this album can be purchased in my shop HERE so you can replicate it!

To see more photos of this Halloween Boos and Brews Album, and to read my original blog post, click

HERE

.

2015 -
Halloween October 31st House Shaped Album - The 2015 version of the house shaped mini was created with Doodlebug's October 31st Collection. It's full of smiling ghosts, cats, owls, bright colors and interactive pages. The instructions for this album are also in my shop and can be purchased HERE.
To read my original post with more photos of this Halloween October 31st Album, click
HERE.

Well, what do ya think? I hope you got some fun and creative ideas! Below I've given links to some of my current Halloween products that are available now in my shop. There's even a Wizard, Harry Potter themed album! Be sure to check them out and thanks so much for visiting my blog!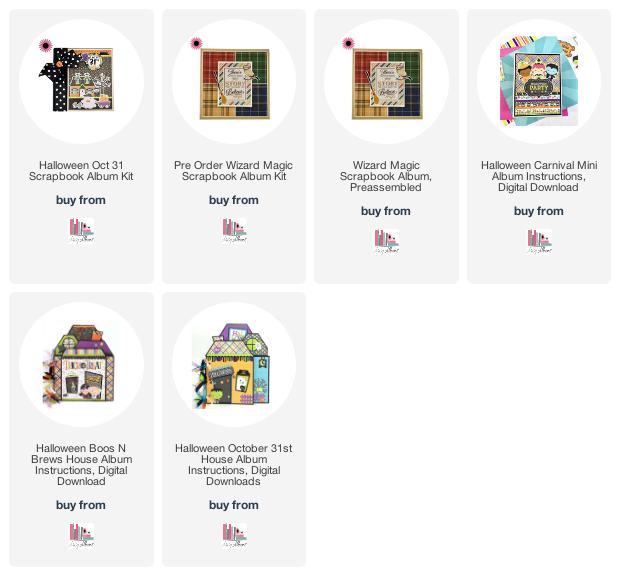 Blog * Facebook * Instagram * Pinterest