Hey guys! Today I have a great Halloween "Trick or Treat" etched glass jar with an adorable bat lid to share with you. It's the perfect place to store all your candy and it looks great sitting out as decor. I made this project for Lori Whitlock's blog a while back but for some reason, I forgot to share the tutorial. Soooo... here it is!
I etched the Trick or Treat phrase into the glass using etching cream and my CAMEO machine and used paper, twine and another one of Lori Whitlock's cutting files for the lid. Below are the more detailed steps ...

I have to admit, before this project I had never used etching cream on glass but I had been wanting to give it a try. I was surprised by how easy it was, thanks to my friend Gina. She was a wonderful teacher!
To keep this project "easy" and "quick", I suggest you don't pick a cutting file that is intricate for your first attempt. Go with something chunky like Lori's "Trick or Treat" title. The detailed spider web took a little more time but it was fine and I love a little detail anyway.
Supplies needed:
(product links at the end)

Lori Whitlock's Trick or Treat Cutting File

Glass jar, plate, vase, etc. (don't you just love discount and dollar stores?!)
Tweezers or Silhouette hook
Okay — this is super fun so let's get started!
First, pick out a cutting file. Sometimes this can be the hardest part.
Next, be sure your cut setting is on "vinyl", and cut out the shape. Remember, if you are using a roll of vinyl, just feed it into your machine…no mat needed, but be sure your machine screen says "load cutting material", not load cutting mat.
Cut your shape out of the vinyl and then use scissors to cut a fairly large area out of the vinyl around your shape. You want to do this because when you apply the etching cream to the glass, you don't want any cream to get on the glass where you don't want it. The extra vinyl will act as a barrier around your shape (see picture below).
Remove the vinyl from the cutting machine and remember, the etching cream will "etch" the glass wherever the vinyl is removed. If you do a phrase like mine, be sure to carefully remove the "etching areas" with a hook or tweezers (be sure to leave all those little spaces in the centers of the letters!)
Once you have removed the spaces that you want "etched" into the glass, apply a piece of transfer paper over the top of the design. This will help you lift the design off of the vinyl backing in one piece. You want to make sure there are no bubbles, so use a spatula or Silhouette scraper to smooth over the entire surface.
Once you're sure all of the pieces of your design are attached to your transfer paper, flip the piece over and peel off the vinyl backing.
Replace any tiny pieces that may have been lifted off with the backing, and apply the entire design (vinyl and transfer paper) to your glass.
Slowly peel the transfer paper away from the vinyl at a 45 degree angle. Smooth out any bubbles in the vinyl and make sure that all of the vinyl is adhered to the glass. Etching cream is a thick consistency which I applied to my design with a foam brush … a spatula would also work. Make sure you cover the etching area completely, smoothing the cream out in multiple directions to get even coverage. Set your project aside for a while. My etching cream jar says 5 minutes … I left it for 15 minutes.
After giving the glass a good amount of time to work, run warm water over the glass and rinse off all of the cream. Carefully peel away the vinyl to reveal your wonderful etched glass design!
To finish my project, I cut another one of Lori's files - Ground Bat Wings Canister (link below) to cut a circle for the top of the jar lid. I cut the file twice, trimmed only the bat out of one of the cuts, and added him on foam tape to give the lid a dimensional look. A few gems, some ribbon and twine, and my jar was finished!
This treat jar can be used for many Halloweens to come. It's really cute filled with your favorite candy, super useful and great Halloween decor, too!
Supplies: Affiliate links are used in this post at no additional cost to you. I receive a small amount of compensation when you click through and shop using the provided links. (Note: loriwhitlock.com is not an affiliate link) This helps me to continue building my small business. Thank you!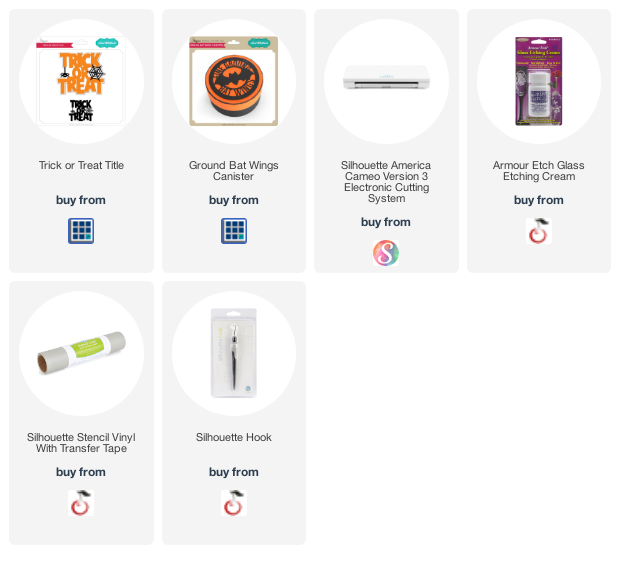 Blog * Facebook * Instagram * Pinterest