Hey guys! If you're like me and love to play with lots of embellishments then I have a really fun project for you. It's an explosion box and it makes the cutest gift!
The box is pretty awesome and it's so much fun to make. But it also makes a really unique presentation for a smaller present that can be tucked in the middle of the box like candy, jewelry, money, a small toy or a gift card.

Once you remove the lid, the box folds open to reveal lots of layers and cute embellishments. You can personalize it even more by adding photos to some of the blank pages. What a great little keepsake!
For the outside of the box, I added pattern paper and stickers from the adorable Dragon Tails collection.
The Odds & Ends were perfect for these pages ... just the right size!
Is that little dragon clip not the cutest? He's hanging out on the edge of a treat bag that I cut down and re-glued to fit my small page.
What would a mini album be without a few adorable boutique buttons?
And sprinkles!! My all-time favorite embellishment ... especially the glitter ones :)
I finished up the box by hanging some mini garland around the lid. The links to the Explosion Box cutting file I used for the base layers (I cut all of the pattern paper by hand) and a similar cutting file by Lori Whitlock are listed below.I also found more of the Dragon Tails Collection for sale

HERE

.

Have fun with this project!
Affiliate links are used in this post at no additional cost to you. I receive a small amount of compensation when you click through and shop using the provided links (Note: my Artsy Albums shop is not an affiliate link). This helps me to continue building my small business. Thank you!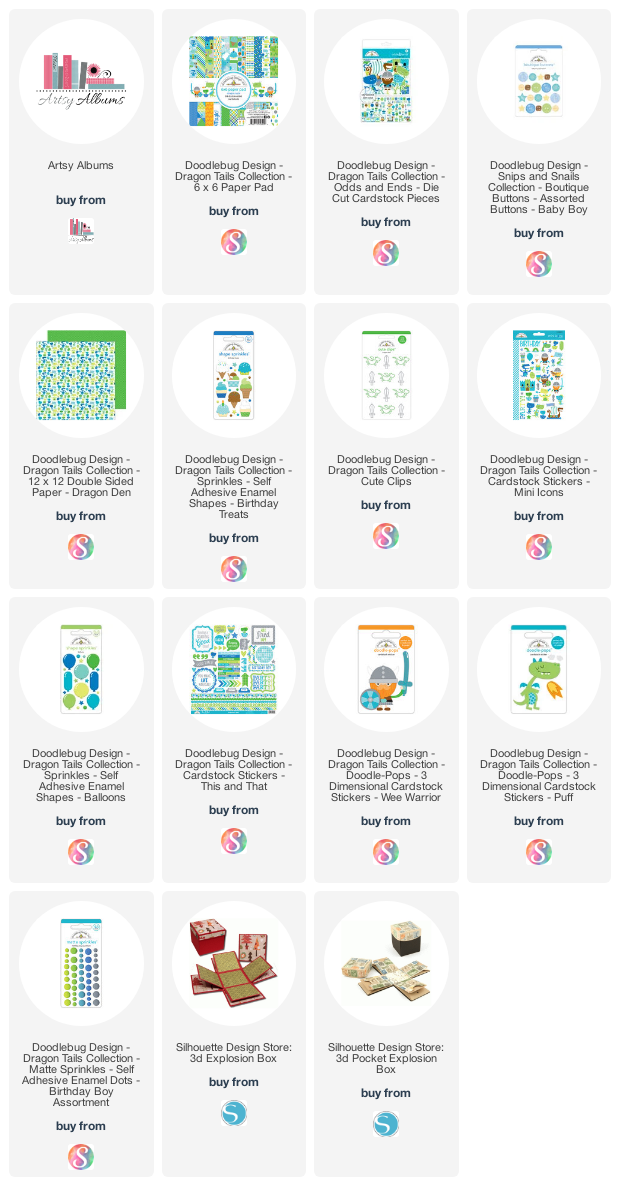 Blog:
www.artsyalbums.com
Instagram:
@artsyalbums
Facebook:
www.faceboook.com/artsyalbums
Pinterest:
www.pinterest.com/artsyalbums