Hello friends and Happy National Mason Jar Day!
In 1858, John Mason invented and patented the glass jar and it's unique screw top to make canning safer and easier.​
163 years later we're using these clever jars for all sorts of things like drinking glasses, vases, storage, candle holders, gift packaging and ... inspiration for fun little scrapbooks!

Today, I'm excited to share my next acrylic album AND the instructions for this cute mini titled My Happy Place! They are available for purchase in my shop (links are below).
The album
has two 5"x8" jar shaped covers
that are cut from high quality, 1/8" thick, clear acrylic. It includes
4 white cardstock pages inside that are perfect for layering with patterned papers and c
omes completely assembled with a binding ring so all you need to do is decorate!

I designed this scrapbook with Doodlebug's Cute and Crafty collection. Aren't the button and flower shape sprinkles adorable? I added them to both sides of the front acrylic cover so it's just as pretty on the inside!

The title sticker (My Happy Place) is from the This and That sticker sheet. The white mat behind the title sticker is included with the acrylic album. So, if you buy more than one jar album and want to use different Doodlebug collections ANY This and That sticker in this shape will fit the white mat.

Now, for the inside ... This mini will hold 10 of your favorite crafty photos. But if you need more space,
additional pages can be added by tracing the existing ones and cutting them out.
Super simple.

This scrapbook is perfect
for saving photos of crafting with friends (aka our happy place, lol), memories from a weekend crop, a retreat or
an afternoon crafting with the littles. Did you attend the She Loves Color event? This would make such a great keepsake for those pics.

Check out the little row of hearts on this page. It's a die cut piece from the Chit Chat, then I added heart shaped sprinkles on top. I just love the shine!

I hope you'll give one of my acrylic albums and instructions a try! These instructions come with ALL the measurements and a product list (links below) so anyone can recreate this.
⭐ To see the other jar shaped mini albums I've made, hop over to my blog HERE, HERE, HERE, HERE, and HERE. Happy scrappin'!
Supplies
:
As an Amazon Associate, I earn from qualifying purchases.
Affiliate links are used in this post at no additional cost to you. I receive a small amount of compensation when you click through and shop using the provided links. This helps me to continue building my small business. Thank you!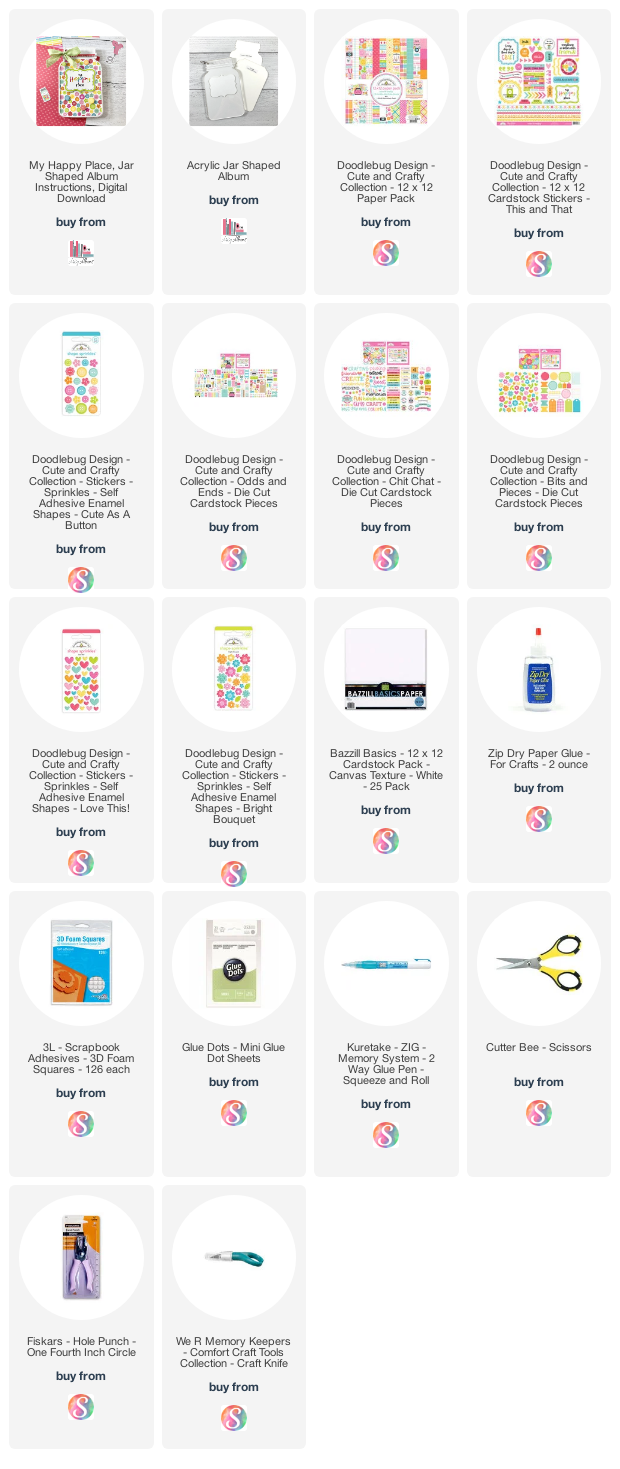 Blog * Shop * Facebook * Instagram * Pinterest