Hey scrappers! In the beginning of December I shared a Christmas box that I made for storing handmade gift tags. I told you I'd be back to show off those tags once they were finished and ... today's the day! This is an easy and small project that anyone can do with simple scraps. So, get your crafty on and let's do this! 😊

I wanted to mix things up a bit so ... since I haven't done any stamping in a while, I figured that would be a fun project to do. First, I cut the tags out of white cardstock using the
DoodleCuts Large Tag die.
Then I picked out the stamps I wanted to decorate them with. I chose Doodlebug's
Night Before Christmas Doodle Stamps, which are precious! Then I decided on the layouts and, using black ink and my handy dandy
Misti stamping tool
.. I stamped away!
If you're new to stamping, I highly recommend the Misti stamping tool. It helps to keep everything lined up properly.
You can re-stamp the exact image if the ink was too thin and y

ou can easily stamp one image on top of another! To see video on this stamping tool, click

HERE

.
Now on to the best part! The coloring and bejeweling and stickering! (Stickering, lol ... that should totally be a real word! 😂)
Anyway, I colored the images with
glitter gel pens and added some mini jewels here and there for a little extra sparkle.
Then I just played with different stickers like the mini heart sprinkles, the stars, the snowflakes and even some border stickers (product links below).
For the "Christmas" on the reindeer tag above, I just cut the word out from the Dasher & Co. pattern paper.
I also added some decorative paper at the top of a few tags for variety.
Once I finished embellishing the tags, I matted each one on to a cute piece of paper from the Doodlebug, Night Before Christmas Collection.
Then I tied a pretty ribbon to the top of each tag and ... you're done!
So, if you have 10-15 minutes of crafty time, make some gift tags! They're fun and easy to make, and you'll feel such a sense of accomplishment when you add them to your presents!
I'm using my Christmas box to hold my tags until I'm ready to wrap gifts. In the meantime, my box of tags looks pretty cute sitting out on my coffee table! What do you think? I love it!
Be sure to check out the product links below and thanks so much for stopping by! 🎄

Supplies: Affiliate links are used in this post at no additional cost to you. I receive a small amount of compensation when you click through and shop using the provided links. This helps me to continue building my small business. Thank you!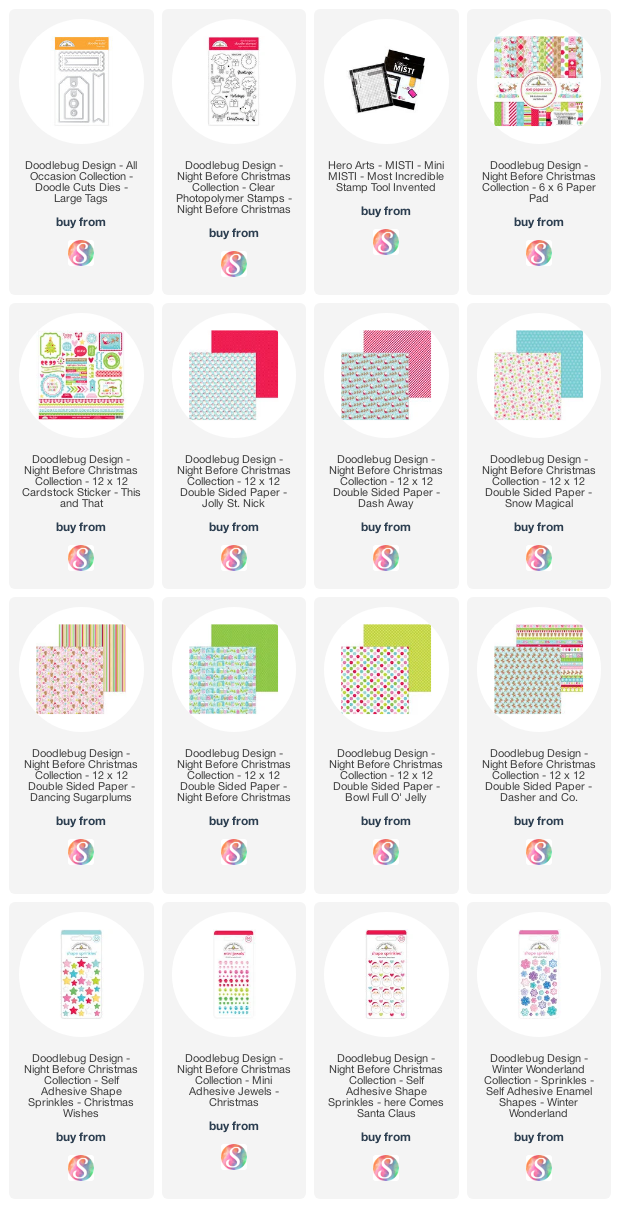 Blog * Facebook * Instagram * Pinterest