Happy Throwback Thursday! Today, I'm diggin' back in the archives and sharing an older Christmas project for some fun inspiration! This one is a Gift Card Holder that's ... kind of like a mini album!!

And, this amazing little fold-out is for GIFT CARDSss ... meaning more than one! How cool is that?! At the bottom, I share the link to the original post where I show you how you can make this too!

When you open it, there are 5 separate little pockets to hold different cards.
You can give a variety of them so your recipient has choices! Yay! Who wouldn't like that?! Ummm, no one.

I love this idea so much! You can give your special someone a gift card to MANY different places. Maybe each card has a smaller denomination but who cares, it's awesome! And honestly, this is a super thoughtful gift. It shows that you took the time to pick their favorite places that they like to frequent, maybe everyday!
You could give them one to their favorite coffee shop or cafe, a restaurant, maybe their nail salon, ice cream parlor or an Artsy Albums gift card! Yessss. That last one. 😉

I love, love, love the little jelly clips. This holder was originally designed with the
Doodlebug "Christmas Town" collection and I think the clips are sold out. But they still sell the "Christmas Magic" clips which are a great substitute and equally as cute! (Link below.)

I decorated the Christmas trees on the cover with little dot sprinkles. Wouldn't it be cute to also use shaped sprinkles! They'd be like little ornaments! Doodlebug's current Christmas collection (Night Before Christmas) has some great ones like dots, stars, candy, gingerbread, twinkle lights, and jewels.
Here are some pics of the inside pockets filled with gift cards. If you have the option, try to choose cards that have a Christmas design on them. It will add to the cute factor! If you need to print an online gift card or maybe have a boutique shop that only offers paper gift certificates, that's ok! Both will fit nicely in a pocket.

You could go a step further and add some photos. Include a cute picture that was taken of you both at the restaurant or coffee shop & add it to a pocket with the gift card to match. What a nice surprise that would be!

Along the front of each pocket, I added cute shops and houses from the odds and ends from the Christmas Town collection (links below) but, these can be embellished with anything. You could choose pieces that coincide with the theme of the gift card like coffee, clothes, food, or donuts! Or you can make them all holiday related with presents, stockings, wreaths and candy canes.
If you want to make this gift card holder, click HERE to see my original blog post where I explain how to make it. Some of the supplies from Doodlebug's Christmas Town collection are still available! Yay!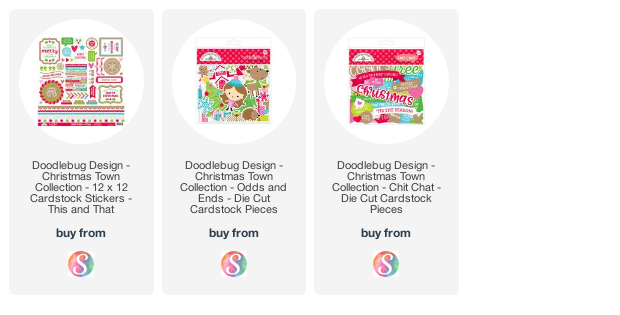 If you want a substitute collection, Doodlebug's Night Before Christmas would be a great one.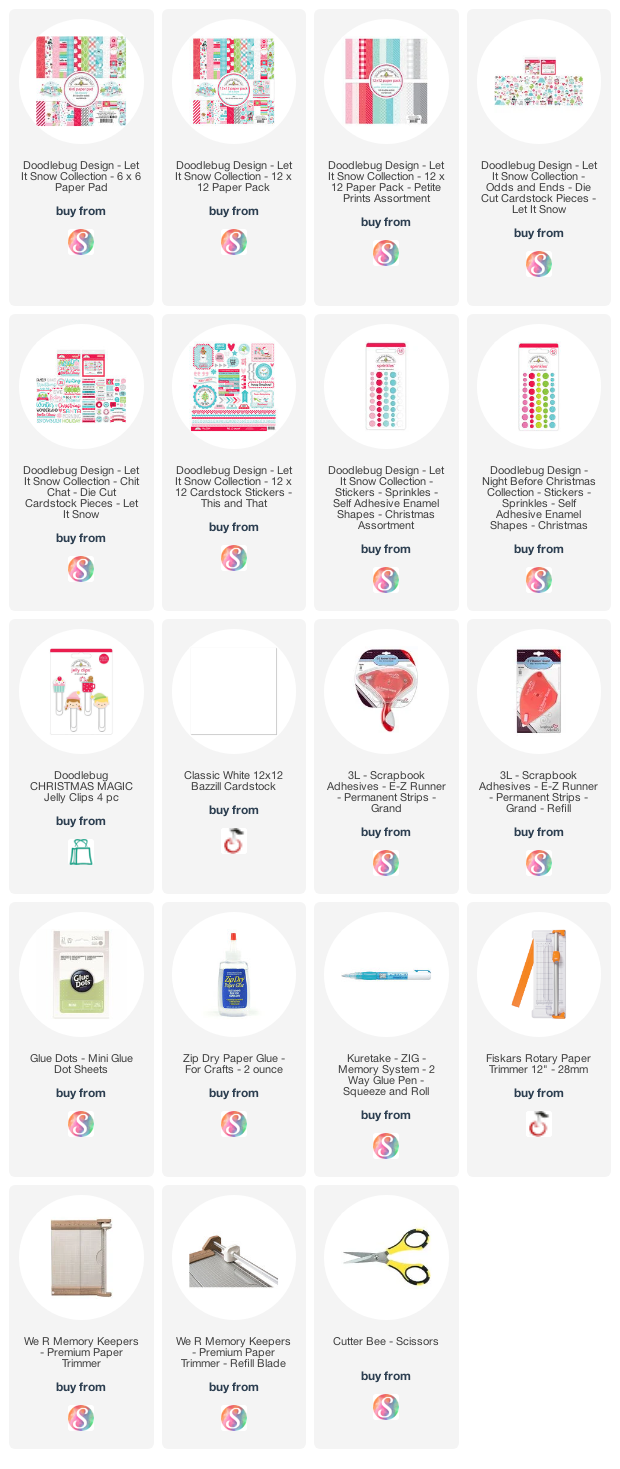 Have a great day and happy scrappin'!
Supplies: Affiliate links are used in this post at no additional cost to you. I receive a small amount of compensation when you click through and shop using the provided links. This helps me to continue building my small business. Thank you!