Hey guys! I'm starting the week off with two really cute winter cards that are easy and fun to make! Did you know that greeting cards date back to the 1400's? Whoa ... that's a lot of cards being sent out with messages of goodwill and holiday greetings!
There are so many crafty people that love making handmade cards. It's such a thoughtful way to tell someone you're thinking of them. But you don't have to wait for a birthday to send one. Here are a few other ideas for giving one of these greeting cards.

Let's start with the obvious. Christmas just passed and these would make awesome thank you cards for the gifts you received. And the winter theme is perfect.
Give this to someone just to thank them for being awesome! Like a neighbor or friend who picks up your mail, shovels the snow off your sidewalk or always has an egg for you to borrow.
This would be a great card to welcome the new folks that just moved in to the neighborhood. Or ... maybe one of your friends just bought a new home and you want to congratulate them!
This would make a sweet card to send your kids at college to remind them you're there for them and to encourage and support them as the semester resumes.
You could use this as a "save the date" card. Plan a morning with a friend, sip coffee by the fireplace and catch up on each others lives. Add an outdoor playdate with the littles for fun in the snow. Double duty!

If someone is sick (or quarantining after a possible COVID exposure) ... this is a great time to tell them you're thinking of them.

It's a brand new year and that means new goals. Show someone your support for a new job, a new fitness plan or a new home project. A simple "You got this" can go a long way.
Maybe you know someone who recently got engaged, an old friend that's retiring, your sister who ran her first 5K, or ... your grandmother who just really likes getting cards!

Everyone is texting now-a-days, and that's great ... but who doesn't love to go to the mailbox and find a card in there?! A handwritten note shows you took time out of your day to stop and think of them. Life is busy - this small gesture is so meaningful.
Now for a few quick notes on how these were made.
Most of the products used are included in the links below.
For the first card "Hurray For Snow", I cut the plaid paper just slightly smaller than the front of the card and used the Doodle Cuts Nesting Scallops to cut a hole in the center. That lays over the large circle on the card (from Jillibean Soup). I added purple dot paper, from the Doodlebug Polar Pals Collection on the inside and a die from Echo Park to add the snowflake. I embellished with glitter, a pretty gem and pieces from the odds & ends.

For the "Warm Wishes" card, I used Arctic cardstock from Bazzill for the blue background and embossing paste for the snow. It was really simple. I just held the stencil in place by using washi tape. Then spread embossing paste over the stencil in an even layer. (Be sure to save any excess paste back in the bottle.) Then I just removed the stencil and let it dry. I added white cardstock for the snow hills and some mini icon stickers.
These were so easy and make such cute projects! Try them and send someone a little love this winter season!
Supplies: Affiliate links are used in this post at no additional cost to you. I receive a small amount of compensation when you click through and shop using the provided links. This helps me to continue building my small business. Thank you!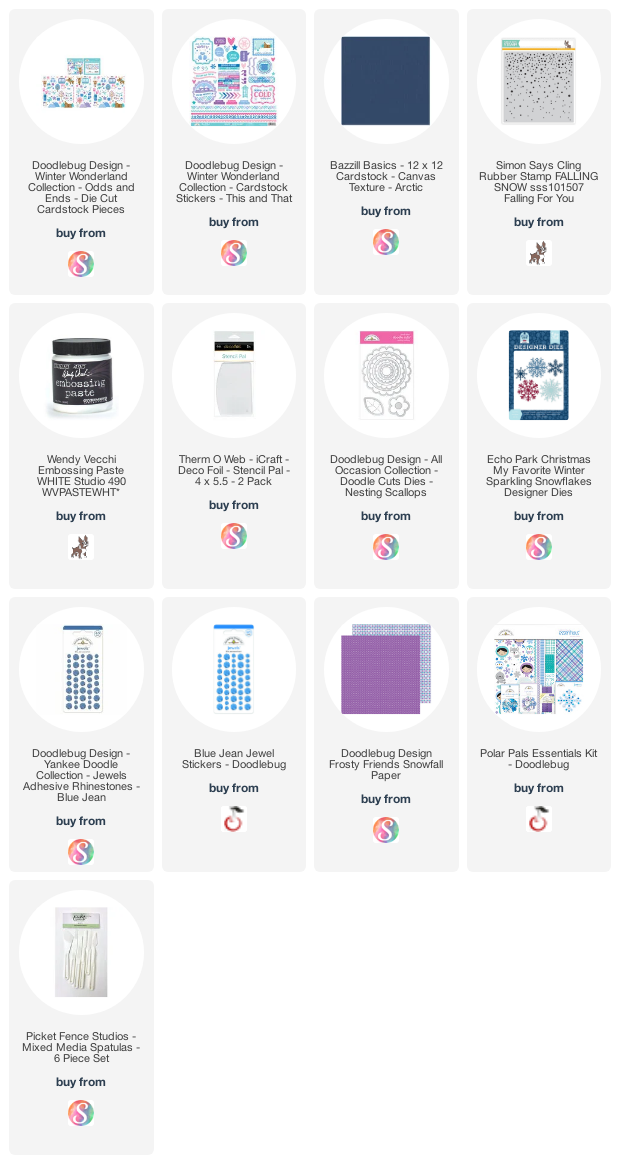 Blog * Facebook * Instagram * Pinterest