Ok guys ... high five yourself, you made it through the week! It's Friday and that means I have another brand NEW amazing scrapbook!!
This one is titled "Life Is Sweet" and it's a recipe album! Yesss! I love these! I used Doodlebug's newest Made With Love Collection and it's full of Doodlebug cuteness! Take a look ... you're going to want one! 😉

First, let's take a second to talk about this sweet collection. The colors are so fresh with mint green, watermelon, pink and sunshine yellow. Seeing the smiling little faces is contagious. Trust me, it'll make you happy. Creating this album is fun and great therapy after a long week.

Every home needs a great place to store recipes in their kitchen and I love a good scrapbook for this. It's perfect for organizing all the ones you've collected over the years ... like torn-out recipes from magazines, a ton of hand-written cards and dozens of printed sheets stashed in a drawer. So... this is the wonderful way to help you get organized.

Besides the fact that this scrapbook is simply ahhhh-dorable, it's super practical. It has 16 scrapbook pages (8 double-sided) where you can save your recipes, notes and add pictures that connect your memories with the special foods you make.
The pocket pages have cute cards in them for journaling, shopping lists, meal planning and pictures or ... add your own recipe cards to the pockets.

There's nothing as meaningful as a treasured family recipe and this album can serve as part recipe organizer, part diary. You can use the pages to tell your family's story. Include details like who the recipe came from, when was it created, why it holds special meaning for your family and beloved pictures.
With plenty of space, it also has 9 additional clear pocket pages. They are 4x6 and hold 36 recipe cards. And look how cute those matching cards are!

The refrigerator on this page kills me! Hahaha! The fact that it opens ... oh, I thought I was hilarious when I made that. Too cute!

Since some of the best gifts are "made with love" (lol), don't forget this would be a great idea for someone else. If they enjoy scrapbooking, the kit would be an awesome present. If not, you could make it for them and give them an amazing handmade album.
Perfect for the baker, the cook, your mom or grandmother, your sister, or your friend!
I'm going to love having this one sitting out on my counter or my bookshelf. Who knew a recipe album could be this cute? Hope you love it and happy scrappin'!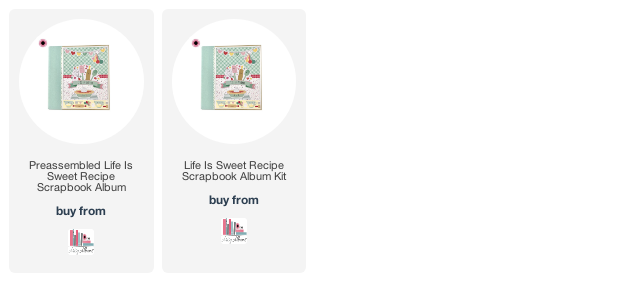 Blog * Facebook * Instagram * Pinterest