Hi everyone! On Tuesday, I introduced the first of
4 new kits that will be available in my shop on Friday. It's a super cute, baby themed greeting card kit. If you missed it, click here.
Today, I'm sharing the 2nd and 3rd kits. (The 4th will be announced tomorrow!) They are 12x12 baby girl and baby boy themed scrapbook page kits! Supplies are limited so don't delay if you plan to purchase these. Friday is going to be a great day filled with so many fun projects!!
First up, Baby Girl ...

There are 4 scrapbook pages / two 2-page coordinating layouts. The girl version was made with the Echo Park, Our Baby Girl Collection and has sweet feminine colors.
I love every one of the cute little animals in this line!! Check out the lion on the page above with it's pink bow. And, the rainbows and flowers are soooo pretty.
Here are more details from the other pages. I added a bow to the pink elephant too!
Both page kits have 4 little flippies each like the ones in the photo above.

These pages were designed with the same Echo Park Collection that I made my 6"x 8" Baby Girl Album with. I've added links to all 3 of my baby albums below - Boy, Girl, and gender neutral.


Next, Baby Boy!
The boy version also has 4 scrapbook pages / two 2-page coordinating layouts like the girl's. I designed this with Echo Park's Our Baby Boy Collection and it's filled with greens and blues.

The teal blue paper above with the tiny mobiles is so cute and it's also such a great color! I love it next to the yellow/orange.
Just under the sweet lion and teddy bear is a flippie card perfect for 2 little photos, journaling ... or both!


Each kit has space for 21 photos so you can add lots of sweet moments like cuddling, naps, bubble baths,
play time, new foods, favorite toys, their nursery,
and
monthly pictures.
Again, these 2 kits will be in my shop tomorrow along with the Baby Card Kit and a 4th surprise! Stay tuned. In the meantime, if you'd like to check out my Baby Albums, click the links below. I have Girl, Boy, & gender neutral.

Have a great day and thanks for stopping by the blog!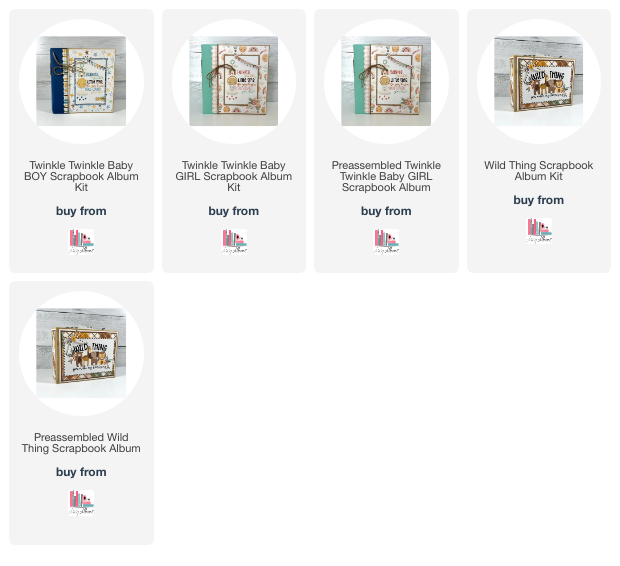 Blog * Shop * Facebook * Instagram * Pinterest