Hello friends! Today I'm sharing my latest Bella Blvd Design Team project. It's a 12x12 page layout I made of my adorable 3 year old granddaughter, Rylee. I started with some inspiration I got from this month's Bella Blvd mood board and I love these gorgeous colors. Pretty, right?!
I wanted the background to be full of color so when I found this patterned paper called Hand in Hand from the Illustrated Faith All People All Nations Collection, I thought it was perfect! It also had a painterly feel like one of the images in the inspiration.

I added white cardstock (sorry, it's a little wonky ... I need new contacts!) and paper from the Bella Besties Hearts & Ombre Collection
in gulf.
I was inspired by the stack of sweaters in the inspiration pic so, I used the stacked patterned paper across the top of the page called My Foundation from
Illustrated Faith

.
Oh my goodness, Rylee's happy face just melts my heart. I know many of you have photos that you feel the same way about. Be sure to scrap them. Those silly smiles, those funny looks and all their adorable personalities! So sweet and one day, you'll be so glad you did.

I love using products from different collections and the yellow scalloped border along the top came from the Cooper, Doohickey stickers. The bright color and polka dots were just what it needed.
I used the Smile title to show off that cheesy smile. It's one of the Besties Cut-Outs titled
Happiness.
If you haven't tried these cut-outs yet, they're super easy and make a really fun impact on your project.

I
backed each letter with a different color from the new Ombre paper and then

used some Aria alpha stickers for the rest of my title.
I added a cute band of "Swiggle" washi tape from the Home Sweet Home Collection
along the top and bottom and finished it off with
some random heart and tag stickers. Done!
I love this page ... mainly because of that cute 3 year old and her cheesy smile 😉 but also because of the pretty colors and that great title. I hope this month's mood board and layout inspires you for your next project!
Supplies: Affiliate links are used in this post at no additional cost to you. I receive a small amount of compensation when you click through and shop using the provided links. This helps me to continue building my small business. Thank you!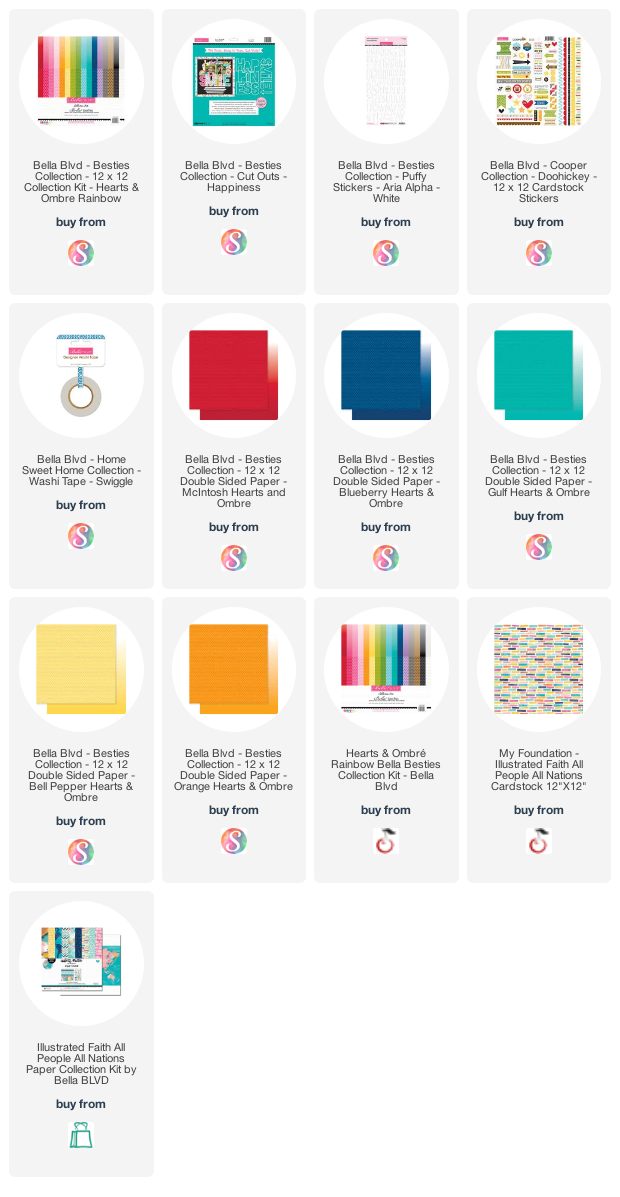 Blog * Facebook * Instagram * Pinterest