Happy Fridaaaay! Yay, it's here!! Today, I'm introducing my newest scrapbook album created with Doodlebug's adorable Candy Cane Land Collection! It's titled Holly Jolly Christmas and it's packed with the cutest, most fun elements. I can't wait to show you!

For the album and it's cover, I used a 6x8 inch Simple Stories binder and added tons of fun to the front. Doesn't it look like a pretty little Christmas tree farm? It has PINK trees! Yesssss!!
And, this really fun element ... a Christmas Tree Shaker-pops covered in tiny ornaments and filled with even tinier beads! How cute is that? This album's cover is sweet, festive, and I just absolutely adore it.
Next up, is a polka dot car with peppermint hub caps and a winter scene paper that's now, one of my new favorites.
This Candy Cane Lane collection has a beautiful color palette with icy blues for winter, red and white candy cane colors, greens that are as fresh as the trees, and a modern touch of pink.
Above is a folding page and inside ... an envelope! Perfect for saving a letter to Santa, a special Christmas card, a note, or additional photos. I love the little reindeer and that teeny tiny holiday mail!
Another fun element is this clear acetate snowflake pocket filled with lots of colorful house die cuts. You can use the backside of these for journaling or as mats for small photos.
This page is packed with tons of interactive elements. Those two blue polka dot cards are flippies. They have magnets that hold onto the rainbow striped paper, which ... is actually a pocket!!
The top flippie has a small mat over the fireplace for a family photo, just like in real life! It's a perfect spot to add one of those tiny photos from the index card you get when you have your photos printed.

AND THEN ... once you open the flippies, there are 2 photo mats
inside the pocket that have colorful scalloped circle tabs to pull them out with. So many goodies & photo space packed into 1 page!

Here, I added a semi transparent vellum page with a pretty holly border. I just love mixing different sized pages and materials into my albums.

Check out this cutie!! I made a small red door die cut into a flippie. It even has a Merry Christmas welcome mat and Santa and his reindeer flying overhead.
So, what do you think? Isn't it adorable? And I've only pointed out some of the fun elements. Imagine how many more there are on the pages you haven't seen!
If you love Doodlebug cuteness, Christmas scrapbooks, unique details, pretty colors, and having fun ... you're going to 💗 this album!!! Hang on ... it needs more !!!!!!!!!!!!!!!!!!!!!! There we go!

Hop over to my shop with the links below and get yours today!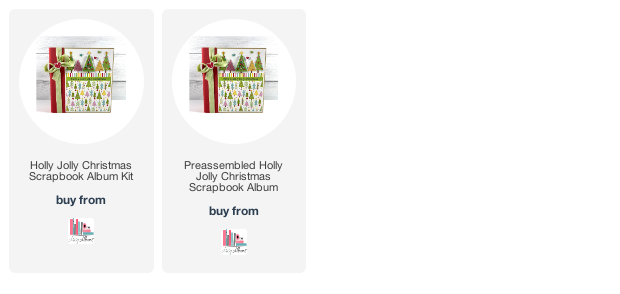 Blog * Facebook * Instagram * Pinterest