Hello scrappers! I love making greeting cards for all occasions, including St Patrick's Day. Although this holiday doesn't necessitate gift giving, it can still be a festive reason to make some fun projects! 🍀

I shared two Irish themed cards last week (here) and today, I have 2 more! If you're not really a Saint Patrick's Day scrapper, you can use this card layout for ANY theme. Simply change out the paper and embellishments and make this a birthday card, an Easter card or a Mother's Day card!

My first card has windows similar to the

baby card

I made last week with circles. I used Doodlebug's Lot's O' Luck collection and I love how the tiny leprechauns are peeking around the windows. (Product links below.)

To make this card, I started with a rainbow stripe paper as my base. I used Photo Play's #9 Rectangular Window Die Set to cut the windows out of black cardstock. I backed that with white paper to make the embellishments really show up. I added lots of fun icon stickers from the Lot's O' Luck collection, tucking different parts of them behind the black paper so they appear more dimensional. The word bubble is from the This and That sticker sheet. (Links below.) And that's how easy this one is!
Next up is a sweet ladybug and clover card. I think it's a little more generic and could be sent out any time of year. I started with basic white cardstock as the base and
used the Lot's O' Luck,

Irish Lad

(black and white stripe paper) on top. Then I added a square of Bella Blvd's Hearts and Ombre (in Punch) for more color and the reverse side of the Irish Lad paper (the green plaid). The top piece is a 3x4 card from the 12x12 sheet, Pot of Gold and I added a ladybug with some foam tape for dimension. Voila! Another easy project!
Celebrate Saint Patrick's Day by making a few handmade cards for your family, friends, teacher, tutor, coach or co-worker.
I've added product links below. Have fun and don't forget to try some green beer! Happy crafting!
Supplies: Affiliate links are used in this post at no additional cost to you. I receive a small amount of compensation when you click through and shop using the provided links. This helps me to continue building my small business. Thank you!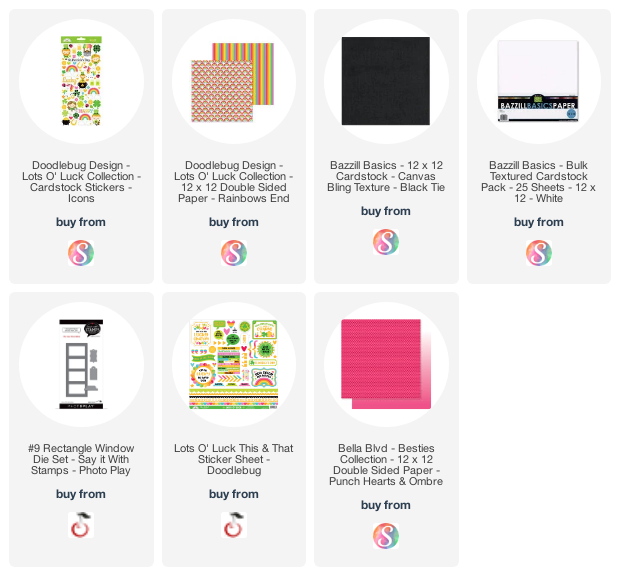 Blog * Facebook * Instagram * Pinterest