Hey guys! I thought I'd give you a peek inside an album I made for one of our trips to Aruba. Jack and I love this island ... a quick flight, such friendly people, beautiful beaches and super yummy Pina Coladas! What's not to like about that?! 😊
Ok, so maybe Pina Colada's weren't the only beverage we had there, lol! But look at that view, so pretty! In this album I used scraps I had left over from paper by Basic Grey. The collection was called South Pacific. I rarely throw paper & embellishments away. I love making use of scraps instead of tossing perfectly good supplies in the landfill.

The sunsets were amazing so I wanted to fill the page with my photos. The left side of the page folds out to expand the space. I love interactive albums!
The cute library pocket was perfect on this page to hold our map and a ticket for a day of ATV exploring!

I thought the paper had a bit of a Hawaiian / Polynesian feel but it's tropical so I think it works! I mean, Aruba's tropical! And I loved the colors. Creating your own albums is all about being inspired and making it all your own. Yay, no rules here!

For this page,
I used an app called Photosheet. I use this app A LOT because I can choose a photo layout with 2 or more sections on a 4x6 size. I just drop my photos into the spaces and print. So ... for this photo of Jack and me, I chose a 4x6 layout with 2 sections, dropped 2 photos in each section and that made them 3x4 each. Then I printed, cut own the middle to separate the photos and Bam! I got 2 pictures out of 1 4x6" sheet. You can also leave them as a 4x6 collage and scrap it. Super easy!

I wanted to remember a few of the residential neighborhoods so I just cropped the best part of the photos by hand and matted them on a white sheet of paper. Perfect!

Well, I hope this peek into my own travel album inspires some creativity in you. Use some of those older supplies you have tucked in a bin, print your cherished photos and mix and match to create some magic.

If you have tropical vacation photos looking for a home, I have some Digital Instructions in my shop for travel albums that could be just perfect. Below are a few links to them. Take a look!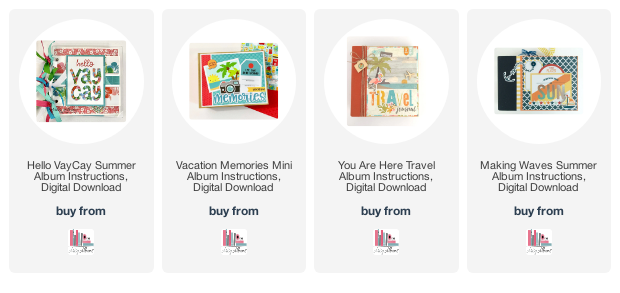 Happy scrappin' everyone!
Blog * Facebook * Instagram * Pinterest