Hello summer! Time for a vacation ya'll!!! Yep, I'm headed to the beach with my family and I'm so excited! I'll be pulling out my flip flops, my shorts that show off my porcelain white legs and lettin' my hair go curly! Beach hair don't care, for sure!

And since it's Throwback Thursday, I'm adding new Digital Instructions in my shop for two retired kits ... this fun beach inspired album and a page layout kit!

To purchase the instructions to make this album visit:
This album has all the relaxed beach vibes I'm looking forward to. Flip flops and string bikinis! OK ... more like flip flops, a modest 2-piece swimsuit, a wide brimmed hat and a very nice cover up. I mean ... a girl's gotta protect her skin!
I can already smell the coconut sunblock and taste the popsicles. I grew up going to the beach every summer with my crazy family all under one roof. I'm so excited to be continuing that with my kids and granddaughter. After being hot and sandy on the beach all day ... there's nothing like coming up to the air conditioned house and getting a peanut butter and jelly sandwich for lunch. That was the best sandwich EVERRRRR after a day of jumping in waves & building sand castles.
I know everyone has summer vacation photos that need to be scrapped. Why not start now? No more procrastinating. I'm telling you, my step-by-step instructions are easy to follow and can be made with any summer themed, beach style paper you want!
This 6"x8" album was originally designed with paper and embellishments from the Carta Bella, Beach Day Collection. There are 12 (6 front & back) layered card stock pages, including 3 pockets and one fold-out page for extra space. It has tons of interactive elements and it will hold at least 28 photos.
Your fun family photos of sand castles, surfing, lazy time on a raft, collecting sea shells and margaritas under an umbrella can all be tucked safely in your album OR on some 12x12 pages ...

6 Page Summer Beach Page Layout

To purchase the instructions to make this album visit:
I hope you'll check out these 2 summer themed Digital Instructions (links below) and have fun scrapping those beach memories!
As always, thanks so much for stopping by. To get great scrapbooking ideas & to stay up-to-date on new products & sales please "like" Artsy Albums on Facebook, Instagram & Pinterest!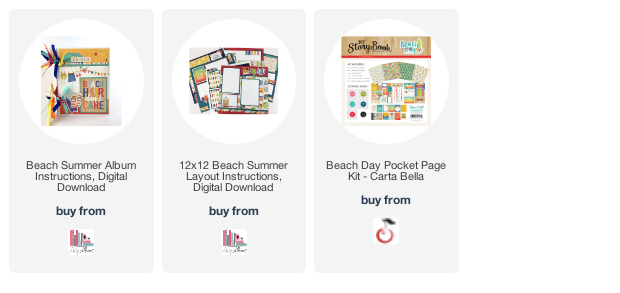 Blog * Shop * Facebook * Instagram * Pinterest