Ok friends ... are you ready for my newest album?!? Today's kit is bright, colorful and perfect for ANY memory. Many of my kits have more specific themes like dog, cat, Halloween, Disney, etc. but ... not today! This kit is titled 365 and it's wonderfully, and happily ... generic. I just love it!

I designed it with a pretty yellow 6x8 inch binder and the Good Stuff Collection, both by Simple Stories. This title is so funny to me. Good Stuff. It's so basic and to the point - like Nike's, Just Do It slogan. Kind of brilliant & leaves you wondering why no one's used it for a paper collection before. For scrapping ... people DO prefer to scrap the good stuff. An album about the bad stuff? Uhhh ... no.
This album is great for everyday photos, highlights and memorable things that happen throughout the year. Add pictures of loved ones, friends, date night, a birthday, or sweet pics of your fur baby.
Maybe this month, you add pictures of your family that came for a visit. Next month, it could be photos of a remodel on your home. 4 months from now, maybe there's a fun event ... like a party, a festival, a holiday, or a concert. This mini works for everything!
The colors are vibrant and the paper patterns include pretty flowers, dots, stripes and hearts, fruits, butterflies, and way more with the journaling cards and tags.
This scrapbook has 28 pages (14 double-sided) and includes 3 pockets (like the pretty one above), 3 fold-out pages, 7 flippies (whoa, that's a lot of flippin' fun!), and space for over 50 photos. Nice.
If you are familiar with my This Is Me series ... you could use this as the next addition. Add family memories, pictures from work or school, and save the moments that bring you joy.

As the page says above ... I think this album is "gonna be epic", lol!
My kits are not only fun but a creative way to channel your energy. No one wants to think about work, bills, and stressful things all the time, so ... we scrap! I think it's really nice to focus our energy on positive and happy moments. 💕
To get your next happy and creative project ... head over to my shop with the links below and get your 365 Scrapbook kit today.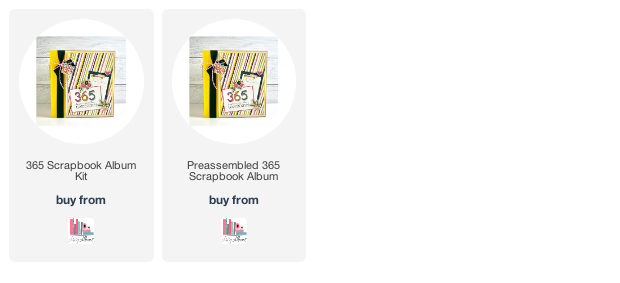 Blog * Facebook * Instagram * Pinterest