Hey guys, look what I have for you today! It's a great mini album for you and your best friend's photos. It's titled Besties for the Resties
and it's perfect for
documenting relationships with your close friends. It makes a great keepsake for you, best friend, daughter, sister, mom, or any high school / college girl. This would be so fun to look back on as hair, clothes, and styles have changed!
To purchase the instructions for this album visit:
I designed this with a teal 6x8 inch Simple Stories binder and the colorful Photoplay, Best Friends Collection designed by Becky Fleck Moore. There are lots of cute girls, flowers, hearts, cups of coffee, sneakers, nail polish, wrist bands, and such fun pattern papers.

I've added an amazing

waterfall element on the page above that gives you lots of room for your photos.

Perfect for pictures of a girl's night out, birthday party, drinks at your favorite restaurant, a vacation, fun selfies, or a simple morning getting coffee together.
There are many places to journal, like the cute card on this page. You can list your favorite memories, dates,
funny moments, places you've traveled to, events, and locations.
T

here are pockets for extra photos, journaling, or memorabilia like ...

movie tickets, cards

, notes, brochures, playbills,

programs,

or anything that's important to you.
This would make such a great gift filled with those funny photos you'll both laugh at for years to come.
I always create my albums with acid-free, photo-safe supplies so they will stand the test of time.
My new Besties for the Resties Album has 12 scrapbook pages that including lots of folding elements, pockets, and space for at least 60 fun BFF photos!

Update: This kit has sold out but the instructions are available in my shop. They are simple, step-by-step, and include full color photos of each page. Links for the instructions and the products used are below. Happy scrappin'!
Supplies
:
As an Amazon Associate, I earn from qualifying purchases.
Affiliate links are used in this post at no additional cost to you. I receive a small amount of compensation when you click through and shop using the provided links. This helps me to continue building my small business. Thank you!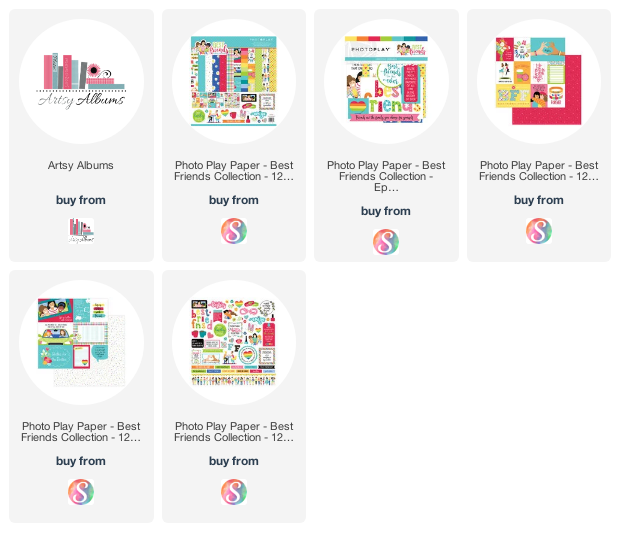 Blog * Shop * Facebook * Instagram * Pinterest