Happy Sunday!
I have a really cute Christmas album to share with you! It's available as a DIY kit or pre-assembled. Perfect for all of those holiday moments you're about to share. Buy it now and you'll be all set after the holidays when things quiet down and you have fresh new photos you're dying to do something with.
To purchase the instructions to make this album visit:
This would be so cute as a gift for a teacher, a hostess, a friend or your neighbor. You'd be deemed the most awesome gift giver!
Or buy this album kit as an activity to do with your little ones or ... "grand" little ones. It's nice to get off the computer/tv and spend a little time together doing a fun activity. And afterwards you have a beautiful keepsake to set out each Christmas!
With nutcrackers, presents, gingerbread and reindeer all packed inside, it's sooo fun!
I love Doodlebug's Santa Squad collection & had so much fun putting this one together. Hope you do too!
Affiliate links are used in this post at no additional cost to you. I receive a small amount of compensation when you click through and shop using the provided links. This helps me to continue building my small business. Thank you!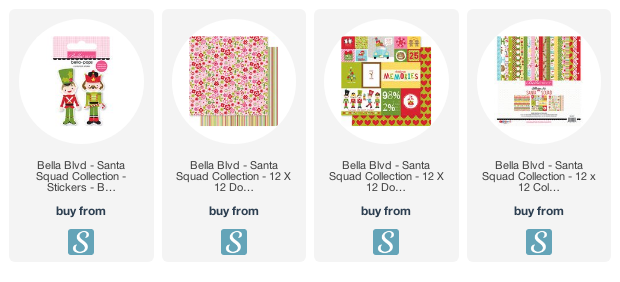 As always, thank you so much for visiting my shop!
Blog
*
Facebook
*
Instagram
*
Pinterest