These are some of my all-time favorite pictures of my boys and my sister's girls. They are so close, even now, and my sister and I often comment on how their personalities today, were exactly the same 15 years ago. Beach photos with a dinosaur theme? Maybe not usually ... but somehow So Much Pun makes it work!!
When I saw first this collection, I fell in love with the adorable dinosaur Doodle-pops called Dino-mite. I couldn't wait to use it on a page layout with one of my favorite sayings, "Let the world hear you roar"! I didn't have any dinosaur photos, but when I found these ... I knew they were perfect!
In addition to the

T-riffic paper

, I used some of the new petite print card stock for the background, photo mats, and "ROAR" die cut. I cut the title letters (The Amazing Spiderman Font) out with my Cameo machine and printed the rest of the title using

Lori Whitlock's RR Kinder Font.
The stickers are from the So Much Pun icon sheet and the dino-mite sprinkles.
I hope I've inspired you to look past the "theme" of stickers and embellishments and use them in fun new ways! There were no dinosaurs roaming our beach that day, but I love how they add to my happy memory from years ago.
Thanks for letting me share!
Supplies: Affiliate links are used in this post at no additional cost to you. I receive a small amount of compensation when you click through and shop using the provided links. This helps me to continue building my small business. Thank you!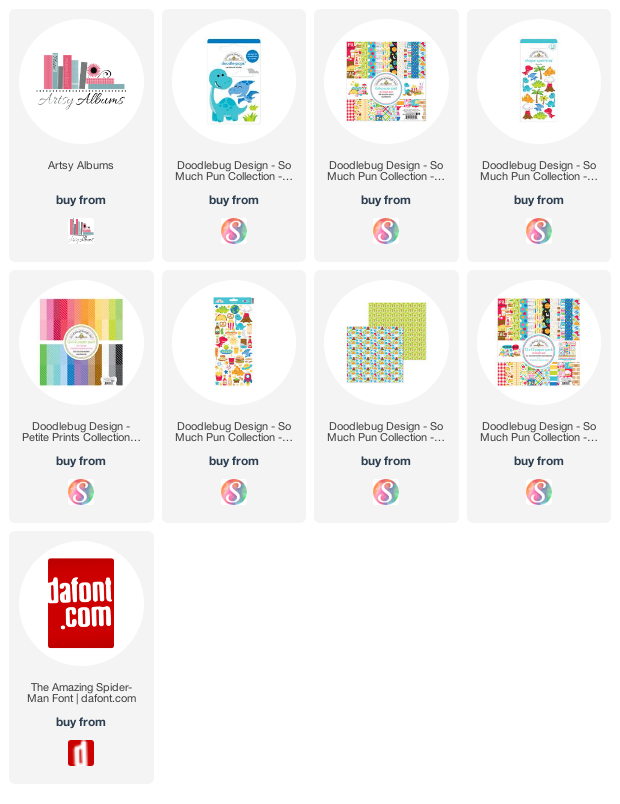 Blog * Shop * Facebook * Instagram * Pinterest