Hey guys, I have GREAT news! Today, I'm introducing 3 NEW travel albums! I have one for a Vacation, Cruise, and Road Trip. So many wonderful choices to meet your vacation needs. These can be used to save your memorable photos or ... as travel journals to document all the wonderful places and fun adventures.

I designed all three with 6x8 inch Simple Stories binders and the adorable Doodlebug Design, I Heart Travel Collection. They are awesome and filled with cuteness!
First up, my Vacation Album ...

This mini is wonderfully generic and perfect for almost any trip. There are fun images of suitcases, passports, stamps, airplanes, cameras, keys, globes, and more. Great for any type of travel!
I love the bright colors. The red binder works perfectly with them!
All three albums have 12 scrapbook pages that include 2 pockets, 2 folding pages, and space for at least 35 photos.Time to explore and load these babies up!

Next, my Cruise Album ...
This nautical themed album is great for saving photos of a cruise ship vacation, boating, the beach, sailing, the ocean, or Marine / Coast Guard pictures!
There are anchors, cruise ships, luggage, palm trees, sunny skies, and puffy clouds!
These albums include spots to document your stories and pockets or envelopes for saving brochures, tickets, notes, itineraries, and extra photos.
Last one! My Road Trip Album ...

This cutie is perfect for those who travel by car or RV and find fun adventures all along the way!

There are maps, cars, cute gas pumps, suitcases, hot air balloon, roadways, cactus, and fun scenic images.
Thanks for stopping by! Hop over to my shop to see these fun albums and the newest kits, premades, and supplies!
Update: These kits have sold out but the instructions are available in my shop. They are simple, step-by-step, and include full color photos of each page.
Links for the instructions are below. Since there are so many products used in each of the 3 albums, I've included products links on those individual listings. Hop over & take a look! Happy scrappin'.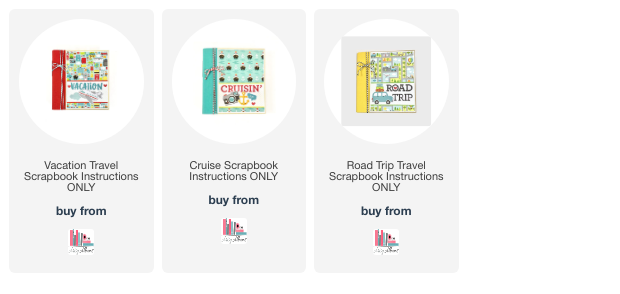 * Shop * Facebook * Instagram * Pinterest