Hey guys, it's time for my latest Doodlebug Design Team project and I have a fun one for you today! It will keep you organized AND give you wonderful 12x12 pages for your scrapbook.
For the new year, I created a wall calendar for my studio. I used Doodlebug's calendar sheets and lots of scraps from different Doodlebug collections. Check out the pages I've made so far ...

I used 4 Clipart clipboards to hang
them over my desk so that I could
display four months at a time. As the year goes on, I'll change them out. At the end of the year, I plan to add them to my scrapbook.
I loved giving each month a colorful theme based on the season or the holiday. I used pretty pattern papers, fun sprinkles, stickers, and odds & ends from older and recent collections.
For my January page, I used Doodlebug's Polar Pals Collection. I added some cute prints, icon stickers, and the shape sprinkles titled "Winter Snowflakes".
I used the Daily Doodles month stickers in lily white for the titles. For the daily numbers, I would have to use too many rub-ons (see above) or stickers (see below) for every day of each month so ... I don't add them to every square. I also just like the look of a few dates scattered around the page.
For my February page, I used 12x12 and 6x6 papers, icon stickers, and fancy frills stickers from Doodlebug's Sweet Things Collection. I also used
icon stickers
from the Lovebugs Collec
tio
n, too. The little pink mail truck and frog is one of my favorites! So cute!

For March, I chose the Happy Go Lucky Collection and added the 12x12 striped paper and lots of the icon stickers. I also used the Pot of Gold Collection for the 6x6 polka dot paper and the fancy frills (green shamrock border sticker along the bottom and the rainbow shamrock sticker on the 5th & 6th).

Ohhh this April page ... I love these pretty pastel colors! I used the Doodlebug, Spring Things Collection.
I added 6x6 & 12x12 papers
, the acetate clouds (from the Odds & Ends), Pastel Posies & So Tweet sprinkles stickers, plaid border sticker (from the This & That), and the umbrella icon sticker.
My October page was created mostly with paper & embellishments from the Pumpkin Party Collection (12x12 pattern paper, Odds & Ends, and This & That sticker sheet). The 2 pumpkin stickers are from the Boos & Brews and Booville Collections.

Almost everything on this cute December layout was from the Christmas Town Collection. I used 12x12 & 6x6 papers, icon & mini icon stickers,
pieces from
the Chit Chat and Odd & Ends ,and stickers from the 12x12 This & That sticker sheet.

Once I finish up the rest of the months, I'll post them. Until then, I hope I've given you some ideas for a fun project this year!

Note:

Some of the items above may be sold out or discontinued but I've added links below to Doodlebug's most recent calendar products. They are awesome!

Supplies
: Affiliate links are used in this post at no additional cost to you. I receive a small amount of compensation when you click through and shop using the provided links. This helps me to continue building my small business. Thank you!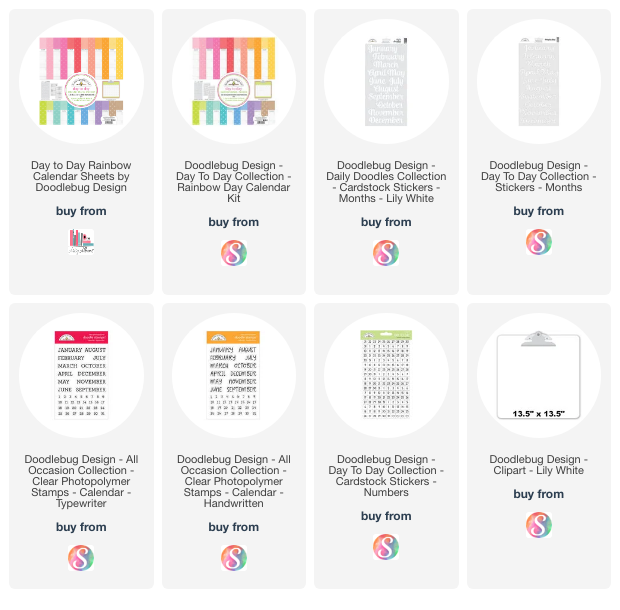 Blog * Facebook * Instagram * Pinterest