Hi friends!! Who's doing some summer traveling or has plans to getaway soon? I love to travel and along the way, I take lots of pictures and save bits of memorabilia. When I get home I have so much fun scrapping my fun adventures. In June, my family traveled to Hilton Head, SC and later this month ... I'll be flying to Utah for a scrapbook retreat with some of my favorite friends.
If you're like me and enjoy fun trips AND scrapping, you're going to love my latest album kit titled Travel Memories. I hope you love it as much as I do ...

I designed this with a navy 6x8 inch Simple Stories binder and the Carta Bella, Pack Your Bags Collection. It's the perfect size for a travel journal and can easily tuck inside your suitcase or carry-on for daily journaling.
It has 16 scrapbook pages (8 double-sided) that include several fold-out elements, 2 pockets, and space for at least 38 photos. There are lots of interactive flippies, and spots for creating a fun travel journal.
I added this pretty waterfall feature that will hold 8 pictures. That's a lot of great photo storage for one page!

Here is one of the pockets. It's great for saving extra photos and memorabilia. These cute 3x4 cards can be used for journaling or as photo mats on the back side.
All of the pieces in my kits are pre-cut for you, packaged by page, and include the simple full-color, step-by-step instructions. You can follow my directions or change up the design to fit your needs. The choice is yours!
Thanks for stopping by everyone and happy scrappin' 😍

Supplies:

As an Amazon Associate, I earn from qualifying purchases.

Affiliate links are used in this post at no additional cost to you. I receive a small amount of compensation when you click through and shop using some of the provided links. This helps me to continue building my small business. Thank you!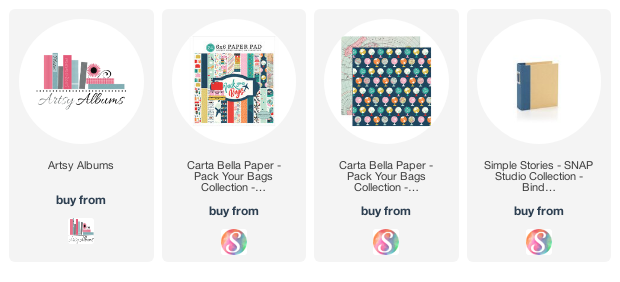 Blog * Shop * Facebook * Instagram * Pinterest