Summer travel anyone? Have you been somewhere fun, or have plans to getaway soon? My family traveled to Hilton Head, SC in June and I'll also be flying to Utah later this month to hang out with some of my favorite crafty peeps for a scrapbook retreat. I love to travel and along the way I take lots of pictures and save little bits of memorabilia. When I get home I love to have an album ready to record all of my adventures.
My latest DIY album kit is all about our travel memories and I hope you're going to love it as much as I do!
The perfect size for a travel journal, this album measures slightly larger than 6"x8" and tucks all of your wonderful photos and memorabilia into a binder album by Simple Stories. It has 16 scrapbook pages (8 double-sided) and 10 divided plastic photo sleeves.
All of our kits come packaged by page, pre-cut and with full instructions. It's easy to follow the directions or to change the design up to fit your needs. There are fold-out pages, like the one above, and pull-out cards for more space and fun interactive elements.
Pockets allow you to tuck extra photos and memorabilia throughout the book, and the cute 3x4 cards are great for adding small photos on the back.
For the page above, I designed a fun waterfall feature that allows 8 photos to fit on this one page!
Isn't this a great paper collection? It's a Carta Bella line called Pack Your Bags. I love the colors and there are so many great embellishments.
Visit my online shop today!
Thanks for stopping by!
Affiliate links are used in this post at no additional cost to you. I receive a small amount of compensation when you click through and shop using the provided links (Note: my Artsy Albums shop is not an affiliate link). This helps me to continue building my small business. Thank you!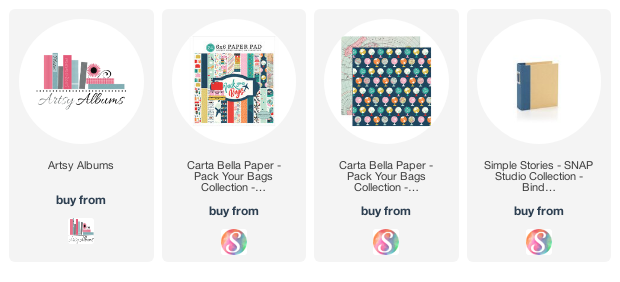 Blog
*
Facebook
*
Instagram
*
Pinterest